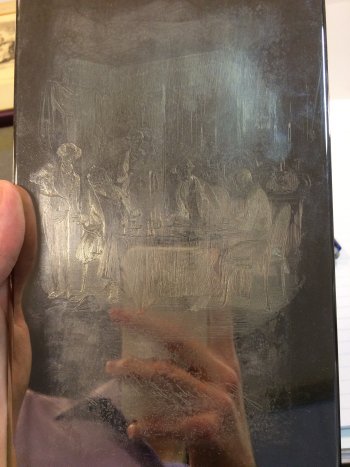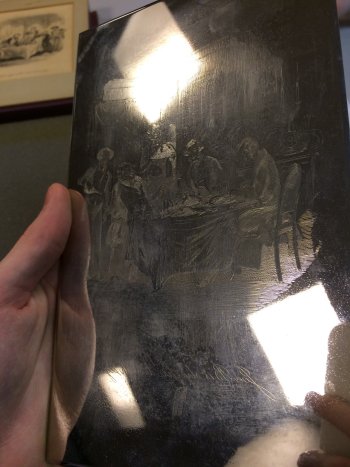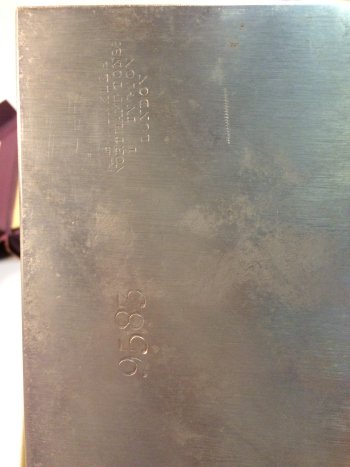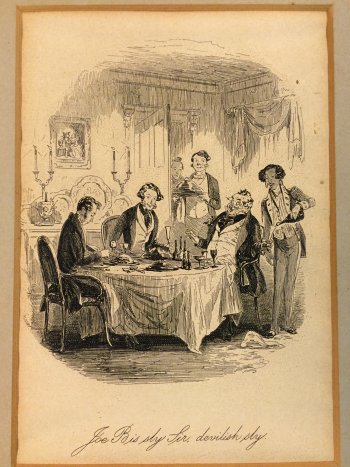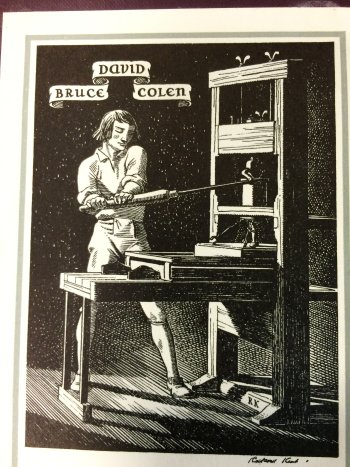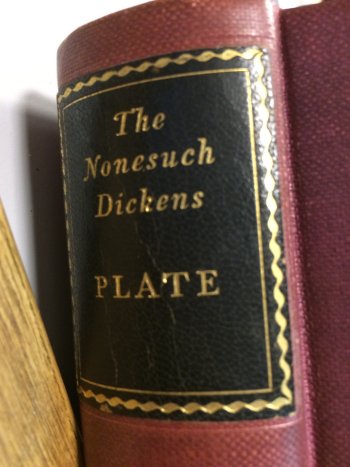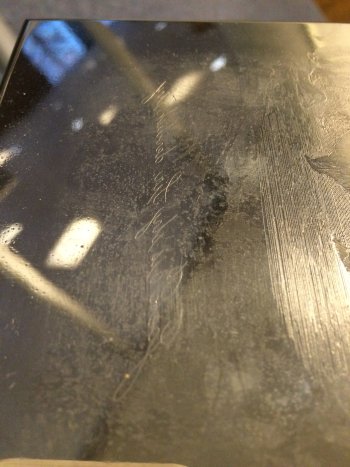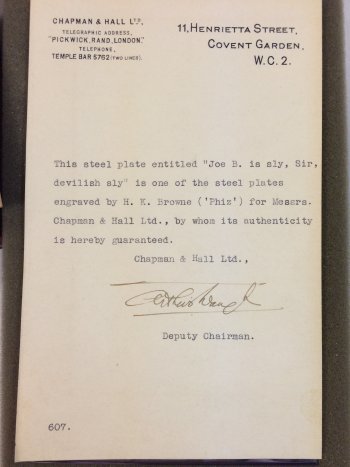 Engraving plate used for Dombey and Son
by Joey Smith

This steel plate engraving is one of many works by artist Hablot Knight Browne, better known by his pseudonym "Phiz." Phiz (1815-1882) was an artist who primarily created illustrations for magazines and novels, in particular for his frequent collaborators Charles Dickens ("Boz"), Harrison Ainsworth, Charles Lever and Frank Smedley.

Phiz's artworks utilized engravings in wood blocks or, more frequently, on steel plates, which held up much longer for mass printing production. Wood blocks were fairly easy to carve into using a chisel, but the steel plates required another method. To create the engraving in steel, Phiz would cut lines into the metal, which is covered by wax; then, ink would be dispensed into the cuts in a process called intaglio printing. Here it is interesting to note that the etched image is mirrored compared to the stamped image; the quote is in mirror script, and is a delicate carving for an English speaker and writer. In some cases, there are errors in Phiz's works where stamped engravings show misspelled or backwards words and lettering, or even an inverted character in a scene.

In the particular plate displayed, a scene from Charles Dickens' Dombey and Son is etched into the metal. Dombey and Son was a novel published in monthly parts by Bradbury and Evans from October 1846 to April 1848, with each publication accompanied by engraved stenciling created by Phiz. The scene here, from chapter 26 (published June 1847), shows a dinner setting between protagonist Paul Dombey, seated left, with his cousin Feenix in the center and friend Joseph Bagstock seated right, accompanied by several standing servants. The quote, "Joe B. is sly Sir, devilishly sly" (sic), is also etched. It is unclear who is saying this: one of the servants; Joseph Bagstock in the third person; or most likely Feenix or Paul to the other person. The scene itself is typical of upper-middle class Victorian life: a fine dinner setting with servants, including an aboriginal native of undisclosed origin (simply called "The Native" in the novel); fine ceramic display plates on a shelf; the three seated men in fine clothes; and a dinner table covered with a cloth with fine cuisine on top. Images such as this had a dual purpose: to succinctly capture the essence of the novel, and to appeal to its intended audience.